Administrative & Legal Issues
---
What Is an LSA?
Local Surety Associations are completely independent entities with no formal ties to either SFAA or NASBP. Each LSA is free to determine its purpose, dues structure, bylaws, makeup of membership, and how it operates. For example, some LSAs have only surety underwriters as members. Others limit membership to surety company personnel and surety bond producers. Others allow CPAs, attorneys, and others associated with the construction and surety industries to join. Dues range from $50 to $3,000 per year. Some meet monthly, some quarterly, and others "infrequently." Many hold golf outings and holiday parties and have speakers at their meetings. Some LSAs are very active legislatively and a few are primarily lobbying organizations. Some LSAs are very active in promoting surety bonding. And lastly, several LSAs have public relations task forces or committees.
SIO Survey
In a 2004 survey conducted by SIO, LSAs were asked several questions regarding their members, association structures, community outreach, and other information in order to create this handbook. These are the results of the survey that describe the general membership and structures of the LSAs that participated in the survey.
Membership
The average membership composition of the LSAs surveyed indicated that underwriters and producers compose more than half of LSA membership. The rest is divided among other affiliated groups such as CPAs and attorneys. Some LSAs allow only surety professionals to become members.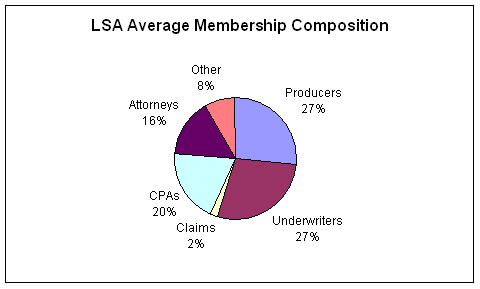 Leadership Structures
In general, LSAs are governed by bylaws, an executive committee, or a board of directors, or a combination of different structures that might include a mission statement or a strategic/business plan. Some LSAs allow all members the opportunity to run for office while others reserve leadership opportunities for surety company personnel only. Of the LSAs that have leadership structures, 1/3 of these LSAs reserve leadership for surety professionals only.
Outreach and Guest Speakers
LSAs are created to provide information to members, to represent members on issues, and to provide information about surety bonds to the local community. Thus, LSAs have a diverse audience outreach depending on each association's needs and ambitions. The average primary outreach of LSAs surveyed named public project owners, state and local policy makers, contractors and subcontractors, and private project owners as their main target audiences. Some LSAs invite guest speakers, such as industry leaders, attorneys, policy makers, CPAs, bond claims persons, reinsurers, and consultants.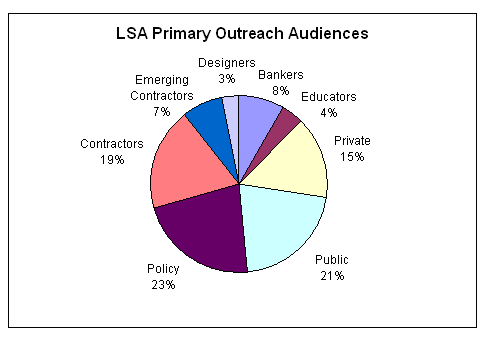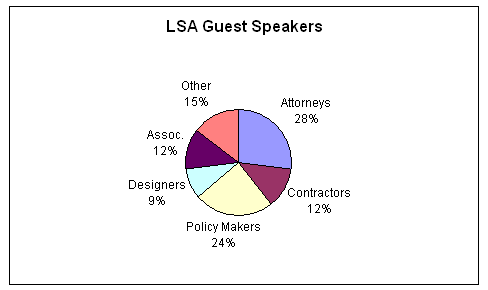 ---
How to Start a Nonprofit
Follow these links to find helpful information for starting your own nonprofit organization:
---
Bylaws
The bylaws of local surety associations govern the operations and stewardship of these entities. Although bylaws may differ somewhat from association to association, there are certain elements and provisions that are common to all. These include the name and purpose of the organization; membership provisions, including classes of memberships (if appropriate) and dues; provisions for nominating and electing a Board of Directors and Officers; the duties and responsibilities of these Officers; a description of the standing committees of the organization; meetings and quorums; other general provisions; and, a provision for bylaws amendments. While bylaws usually may be amended by a vote of the majority of the membership, it is recommended that bylaws be drafted broadly so that amendments are rare. This contributes to the continuity of the organization and strengthens the bylaws as the primary reference point for governance of the association.
Sample Bylaws
LSAs may wish to adapt these sample bylaws to suit their own needs:
---
Committees & Task Forces
Each LSA should have in place all of the Standing Committees described in its bylaws. These Standing Committees could include an Executive Committee, a Budget/Finance Committee, a Membership Committee, a Program Committee (which could include education, public relations, awards, and special events), and a Legislative Committee. In addition, the LSA leadership should have the latitude to establish other ad hoc committees as needed. These committees might include a Bylaws Committee to draft and propose any changes in the association's bylaws or a Nominating Committee to propose candidates for officers of the association. These ad hoc committees may dissolve once their specific undertaking has ended. Furthermore, the LSA leadership may establish Task Forces or subcommittees related to specific efforts such as a contractor outreach and educational program or a summer/holiday social event. Following are brief descriptions of the types of responsibilities and activities undertaken by each of the suggested Standing Committees.
Executive Committee – Usually consisting of the elected officers of the association, the Executive Committee plans, develops, and evaluates the association's strategic direction. In addition, the Executive Committee plans, directs, and assures administration of all association activities.
Budget/Finance Committee – This committee oversees the preparation of the annual budget and the financial reporting activities of the association.
Membership Committee – This committee oversees membership development and retention.
Program Committee – This committee develops the program agenda for the year, including educational programs and special events.
Legislative Committee – This committee monitors activities regarding legislation, regulation, and other significant local, state, and federal issues. The Committee identifies current issues and their impact on the surety and fidelity industry, and reports on these findings to the LSA membership at-large. Most importantly, this Committee is the principal liaison with the Government Affairs Department of SFAA and the Government Relations Department of NASBP and coordinates their position on issues and legislative advocacy efforts with these entities.
---
Tax Status
The LSA may want to incorporate through Articles of Incorporation, obtain a Federal Tax ID number (Form W-9), and draft a set of bylaws to govern the operation of the association. With respect to tax-exempt status, the most common form of association is a 501(c)(6). This designation is for nonprofit, tax-exempt groups organized under Section 501(c) of the Internal Revenue Code that can engage in varying amounts of political activity, depending on the type of group. Section 501(c)(6) is reserved for business leagues, chambers of commerce, real estate boards, or boards of trade. Should an association's gross receipts each year be in excess of $25,000, the association is required to file an IRS Form 990, Return of Organizations Exempt from Income Tax, by the 15th day of the fifth month after the end of the annual accounting period (i.e., the association's fiscal year). These IRS rules change periodically, and each LSA should consult with counsel to ensure it is complying with the most current requirements.
Form W-9 (Request for Taxpayer Identification Number and Certification)
& Form 990 (Return of Organization Exempt From Income Tax)
Official request forms for nonprofit organizations:
---
Antitrust
To our knowledge, no local surety association is licensed as an advisory organization by a state insurance department. Thus, they do not have the partial exemption from the federal antitrust laws provided to licensed insurance rating and advisory organizations by the McCarran-Ferguson Act.
Local association meetings by their very nature involve discussions between representatives of competing companies and/or agents. Discussions and activities can be conducted within the antitrust laws, but the members of each association must understand the allowed parameters of discussion and must adhere to them. Each member company of The Surety & Fidelity Association (SFAA) having underwriters who are members of local surety associations may wish to have its own counsel review this subject and establish its own policies toward local associations, generally, or individual local associations.
We all know that we must engage in ethical business practices. However, even the perception of wrongdoing can have a strong adverse effect on an industry.
Everyone at any level of an organization – or an industry – has a responsibility to maintain ethical standards.
One important component of business ethics is avoiding infringement of antitrust laws – or even the appearance of an antitrust violation. Such laws were created to protect the public interest from collusive industry tactics and monopolies. While the gathering of peers is an invaluable component of any industry, it also presents the opportunity for antitrust violations to occur.
Local surety associations provide the perfect opportunity for surety professionals to interact, address concerns, and share information. However, at such gatherings of industry colleagues, surety professionals should avoid discussion of sensitive business topics. Certain subjects that should be carefully avoided at such gatherings, both during formal and informal sessions, include:
Rates or any elements of rates, including insurer rate levels, insurer loss cost levels, or plans for what the advisory loss cost levels ought to be for any line of insurance for any jurisdiction.
Information on any competitively sensitive practices, including pricing, bidding, underwriting guidelines, terms or conditions of coverage, product development, customers, marketing plans and agent and broker compensation.
All discussions related to legislative or regulatory issues should be limited to subjects relevant to the support of or opposition to legislation or regulatory action, or involvement in judicial proceedings, such as the Association's position, the contents of proposed laws or rules, and the public policy or legal issues. Members may not discuss market activity to influence a governmental body or market response to legislation or regulation.
Trade and professional associations should avoid even the appearance of potential antitrust infringement. Antitrust investigators, enforcers, and lawyers pressing private treble damage suits can be impressed with an organization's steadfast efforts at not only complying with antitrust laws, but with their precautionary efforts at awareness and avoidance of the appearance that their activities are influencing pricing or competition.
Any indicator that someone may be "treading on thin ice" should be dealt with by any member immediately, openly, forcefully, and courteously.
This brief overview should not be construed in any way as an attempt to provide comprehensive antitrust compliance information.
Example guidelines
The following are links to sample guidelines covering antitrust issues and ethics: